André Bogsjö, Elbilen Uniti Sweden AB
André has a long history of working for societal change as an expert in social innovation.
He is the CoFounder of the Social Innovation Center at Lund University and has been successful in raising governmental funding for a range of projects, all with a purpose of solving problems in the world.
At Uniti he focuses on fund raising initiatives, and will share the journey at Nordic FUTURE days
.
ANDRE BOGSJÖ, Uniti is behind the Swedish car startup with rather modest ambitions. "This Swedish electric car is coming to save the world." That's the tagline on Uniti's website and the start of a fantastic crowdsourcing campaign – the most sucessful in Europé so far.
Andre tells the story behind the sucesstory of Uniti.  The car itself is a two-seater weighing about 400 kg (~880 lb), with a 15kW AC electric motor, an 11 kWh Na-ion (sodium-ion) battery, with an estimated top speed of 90 kph (~56 mph) and a range-per-charge of 150 km (~93 miles).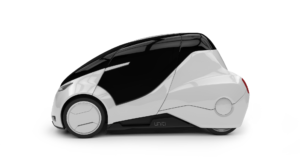 Andre himself is a social entrepreneur and project manager at Lund University in Sweden. He is part of building several social businesses and projects including NordicsgoSocap now Nordic Impact Week.
André initiated Lund University Social Innovation Center (LUSIC) in 2011, one of Sweden's first platform for transformative innovation and leadership and has an academic background in Industrial Engineering and Management from LTH.