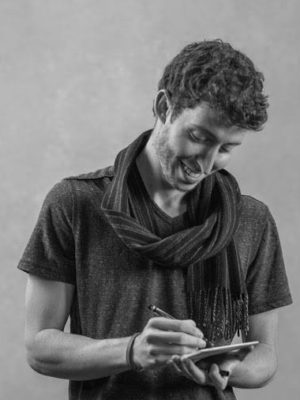 Max Stossel
We are very humbled and proud to welcome Max Stossel, an award winning poet + filmmaker, with a unique style of storytelling.
It is Max's first time in Sweden and the Nordic's and I'am excited to share my  experiences and learn about the Nordic way and our stories, "Max says."
His work consistently goes viral, has been featured by the majority of major digital publications, featured in Lincoln Center, written about in 12 languages, and won multiple film festivals.
Max is also a media strategist with an extensive background in social media. He ran social for Budweiser, where he drove a 3,400% increase in average engagement, before being trained by Gary Vaynerchuk and creating social strategies for Dove and several Fortune 100 brands. He has written on the subject for Quartz and The Huffington Post.
The merging of these fields allows Max to provide a compelling and fascinating perspective on modern content and culture. He is currently helping select brands tell their stories in his style via video, speaking at corporations & events, and helping content-focused brands stop wasting their money and start focusing their content resources effectively.
Max, welcome to Sundsvall, Sweden and the Nordic's