with      
Join Nordic Entrepreneurs and make Impact in San Francisco & Silicon Valley!
A weekly program at the World's leading conference on Social Enterprise, Impact Investing
and Innovation, October 18-29, 2019
Bridging the Nordics with the World in Silicon Valley
Nordic Impact Week is one week of Impact training and business, where you will develop networks, skills, and competencies to make the world a better place to live and work in. You will meet impact investors, social entrepreneurs, and regional developers at the front line of sustainable innovation. You will explore the latest trends Impact economy and leadership.' where actions aimed at creating a better world. Focus 2018 is on the Future of Education. You will participate in the SOCAP18 conference and meet companies like Tesla Motors, Stanford, Nordic Innovation House and more.
What our partners say
André has a long history of working for societal change as an expert in social innovation. He is the CoFounder of the Social Innovation Center at Lund University and has been successful in raising governmental funding fo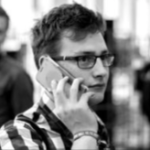 Looking forward to meeting Future Impact Makers and co-create the FUTURE of Education platform Start North.
I want to get a better understanding of what social capital is. I am impressed with how many people are running with this and I want to be a part of it.
I have attended the Nordic Impact Week 2 years now and Strongly recommend anyone to take this opportunity.